Virtual classes of Bodakdev School bridge the learning gap for toddlers from the age of 2 to 6 till the school physically reopens. As a virtual preschool, we strive to ensure that the young children are creatively and constructively engaged during these uncertain times. We don't have long sessions, and they don't extend beyond 40 minutes at a stretch. There are adequate breaks between each session to ensure that the children do not get bored. Moreover, we also take care that the eyes of the pre-schoolers are not strained and screen time is also maintained.
The E-School offers a mix of curricular as well as co-curricular activities that focus on the holistic development of the child.
Here are some of the features of E classes.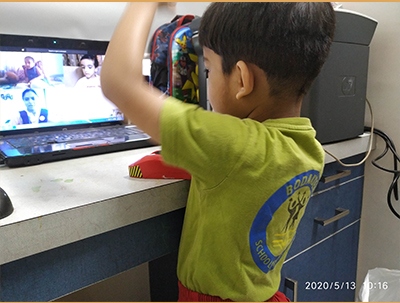 Interactive learning
Teachers integrate virtual lessons with a child's natural environment. E.G. The school promotes the use of household items as learning aids.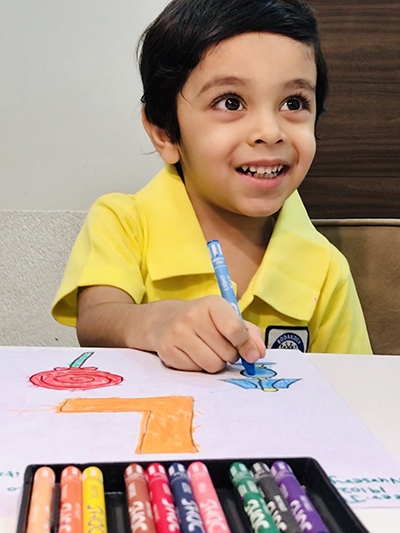 Blended learning- Amalgamation of Online and Offline Activities
The virtual classes of one of the best preschools of Ahmedabad offers a mix of online as well as off-line activities. Recorded videos by our trained early educators are shared with the parents for productive screen time of pre-schoolers.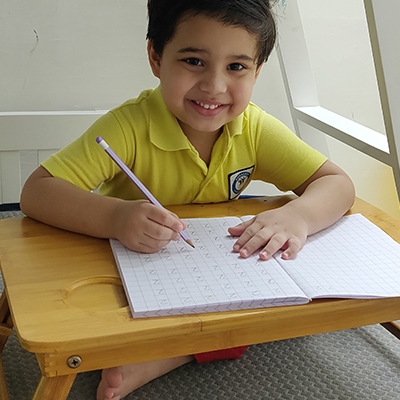 Focus on movement/hands-on learning
Live classes have a focus on hands-on learning activities that can be conducted at home. They also promote activities that help the young cherubs to develop their fine motor skills and gross motor skills at home.

Emphasis on Social and Emotional well being
Educators of one of the safest preschools in Ahmedabad focus on communication lessons online. They talk, share, motivate the child to share what is going on in their little minds? Special days are organised online in which pre-schoolers take part, sing, dance and share jokes with their educators.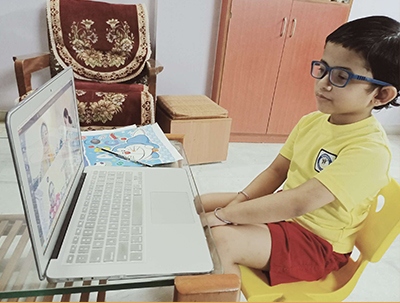 Exclusive Tie-up with Extramarks learning
To ensure that we provide pre-schoolers a world-class learning experience when they are studying at home, we have moved to a hybrid learning model that includes a blend of both synchronous and asynchronous online learning. Children of Bodakdev school are given free unlimited access to Extra Marks learning tool that helps in holistic education through age-appropriate content.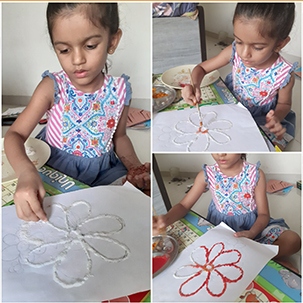 Evening Sessions for Pre-schoolers
The new normal has put parents in a tight spot as they would be working and children would be at home. Bodakdev School would be launching its evening classes for all sections only for working parents. This would help the children to stay in touch with their school virtually in case they can't opt for morning classes. To know more about evening classes, please fill in the online admission form at www.bodakdevschool.com
E-classes for toddlers of Playgroup, Nursery, Junior KG and Senior K.G. aim to support young children in achieving their physical, emotional and social developmental milestones through a perfect mix of live-offline, adult and child-led activities. E-learning is an amalgamation of live sessions, videos, written assignments, printable activity sheets and guided home learning projects. Each day pre-schoolers can experience e-learning that is based on critical areas of language and communication, mathematics, understanding the world through hands-on science and creativity based projects from the comfort of their homes.